Planet Ocean Underwater Hotels, LLC
© Planet Ocean Underwater Hotels, LLC 2021
Tony Webb began Space Tourism in 2000. Astronaut Buzz Aldrin suggested the nation should have a lottery to journey to space.
It's impossible to raffle off 4,000 rocket seats. Also, the ODDS of winning one rocket seat launch are a minimum of a billion to one. Not good odds. Everyday people can not afford to stay at the Planet Ocean Underwater Hotel. We are raffling off all 4,000 guest rooms for that year. Our Raffle Partner program will easily produce 1,000 Partners who will all be supportive of the MARS MISSION and here on Planet Ocean the coral reef restoration program. The choice is theirs to make for Donating. Maybe both!
There is no doubt what so ever a minimum of $1 BILLION DOLLARS annually from our 1,000 Raffle Partners can be allocated to SpaceX. The USA online gaming industry is $275B. Global Gambling Industry is $500B annual. The raffles are all legal in the 45 US states and legal in counties around the world.
The Arab world has accepted raffles in UAE, Oman, Bahrain, Pakistan, Egypt and definitely for the Israelis.
We have very strong Arabic opportunities for Arab nations to be contributing funds because they want to win a night's stay at the Planet Ocean Underwater Hotel in the Maldives or Red Sea operations area.
Over 4,000 RAFFLES will provide HUGE donations for the 1,000 legally Registered charities. All of our technology is in position. The RallyUP.com platform is set to begin accepting on going non-stop donations. Non-stop for 50 years. Non-Stop until THE MARS MISSION is achieved.
Hope you enjoy seeing my 22 years of total dedication. I hope Elon does too and accepts my gift to SpaceX.
AD ASTRA Tony Webb
Managing Director
Planet Ocean Underwater Hotels, LLC.

Since opening day at the 2015 UN Climate Accords in Paris, my work received mention to world leaders about an underwater hotel that helps to fund coral reef restoration.
Our work was presented at the 2014 World Parks Congress in Australia. We were the only NGO who brought forth a coral reef restoration funding solution.
Eight years of daily dedication and converting the US Patent Design #D736947 underwater hotel into the Planet Ocean Underwater Hotels, LLC International Sea Station.
No underwater hotel concept known to the founder can be implemented, deployed, completed, and replicated anywhere in the world as quickly, inexpensively, and cost effectively as a Planet Ocean Underwater Hotel. Planet Ocean Underwater Hotels will design, build, own and operate the world's first USPTO Design Patent #D736947 multi-room hotels conceived to provide guests with one-of-a-kind overnight underwater experiences. All structures are state-of-the-art, triple-redundant safety-ensured with the latest and best technology.
The Planet Ocean Underwater International Sea Station are sited on sand bottom at 30 feet (10.6m) below the ocean surface. Guests enter and exit using three glass elevators that transport them directly from the surface to the submerged accommodations without the need to enter the water. No scuba gear or certifications are required.
We offer certified scuba divers to enter via our scuba surfacing moon pool. Having this experience is a once in a life time inner space tourism adventure… you may feel like James Bond.
The views will constantly astound and entertain with spectacular multi-dimensional vistas of underwater landscapes, aquatic life, and the play of surface light thanks to crystal clear acrylic wall and ceiling viewing panels. This underwater complete immersion is designed so that guests experience the effects of light underwater as the sun and moon move across the sky, creating an interplay of light and shadows in which aquatic life moves gracefully. A uniquely intimate experience of "inner space" provides respite and a vastly new possibility for reflection in an unparalleled design creation. Planet Ocean Underwater Hotels, LLC provide a once-in-a-lifetime experience that can be tailor-made to the target guest.
In this application, we're converting our moveable underwater hotel into a Planet Ocean Underwater Hotels, LLC International Sea Station.
BACKGROUND: For years, underwater hotel concepts have been on the drawing board in places like Dubai, Fiji, and the Maldives. These examples were conceived as large luxury full-service hotels catering only to a tiny segment of the potential interested target guests. Priced at an estimated $11.4 million per guest room for construction, the initial investment required far exceeds a potential ROI ($1 million per room for conventional luxury hotel rooms). At their projected $40,000 per room night rates, the target clientele would only be the very rich and famous. Given this scenario, Planet Ocean Underwater Hotels, LLC sought to create a far more modest and practical model that would generate revenue. Thanks to its space station modular design, our underwater hotel project can be implemented far more cost effectively and are more readily scalable than any concept currently under development.
Tony Webb personally funded 13 years in Space Tourism. He knows the real reasons why there is NO SPACE TOURISM for every day people. Who cares when $250,000 for your sub-orbital rocket seat is spent in less than fifteen minutes?
Tony created a win/win solution so winners from the ongoing raffles can enjoy TWENTY hours of INNER SPACE TOURISM. The certified nonprofit organization Partner will raffle off the underwater guest room on the Planet Ocean Underwater Hotels, LLC. raffle platform. Our odds are not one in a million but more like one in less than 10,000. Hopefully a winner is declared in less than a week and the Partner new bank account transfers 50% to their bank account and 50% to the Planet Ocean Underwater Hotels, LLC Bank of America account.
The 12 individual guest rooms may be customized and additions to the two lobbies. The concourse may be configured as entertaining room, dining areas, event rooms, or observation areas in accordance with local market demand and conditions.
The modular design allows for extensive pre-fabricated construction and transport of completed underwater hotels anywhere in the world in a rapid and controlled manner.
The Planet Ocean Underwater Hotel experience has no rival at any underwater hotel, at any price, anywhere in the world. Being first to market and having no competition means our market share of the aquatic enthusiast and adventure-seeking marine biologists who wish to be among the very first to experience this unique offering will be extremely high.
In this application, we're converting our moveable underwater hotel into a Planet Ocean Underwater Hotels, LLC International Sea Station.
Planet Ocean Underwater Hotel has the opportunity to be "first-to-market," generate millions thanks to media coverage, and build awareness of a unique brand that will become synonymous with the underwater living experience.
Planet Ocean Underwater Hotels' mission is to be the first to market, and establish rapid dominance in the underwater hotel and the luxury travel industry. We will do that through brand recognition by capturing market share for the most unique and memorable overnight and event accommodations available in the world.
About Tony Webb, Founder and Managing Director
Tony owned and operated several companies in the emerging high-tech industries of the 1980s and 1990s before focusing his attention on the field of space and oceanographic exploration beginning in 2000. He served in the U.S. Navy from 1975 – 1979 where he specialized in celestial navigation.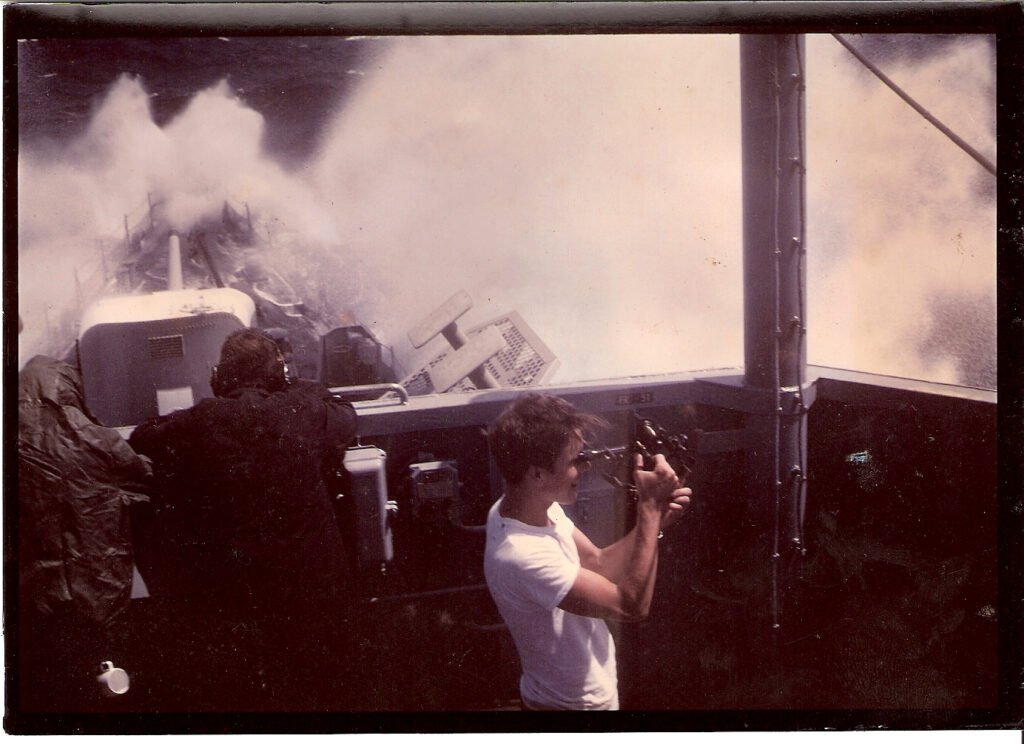 After leaving the service, he continued as a mariner transporting yachts along the Intra-Coastal Waterway, as he began his early business career. GPS was first being tested on our US NAVY warship.
Navigating by the stars and working on the bridge was an honor.
Webb became the youngest agency owner in the USA for Exxon Office Systems Company, a subsidiary of Exxon Enterprises, and he competing against IBM, Wang, and Lanier in the emerging dedicated word processing and FAX market. EXXON was the inventor of the dedicated word processor… years before the IBM PC.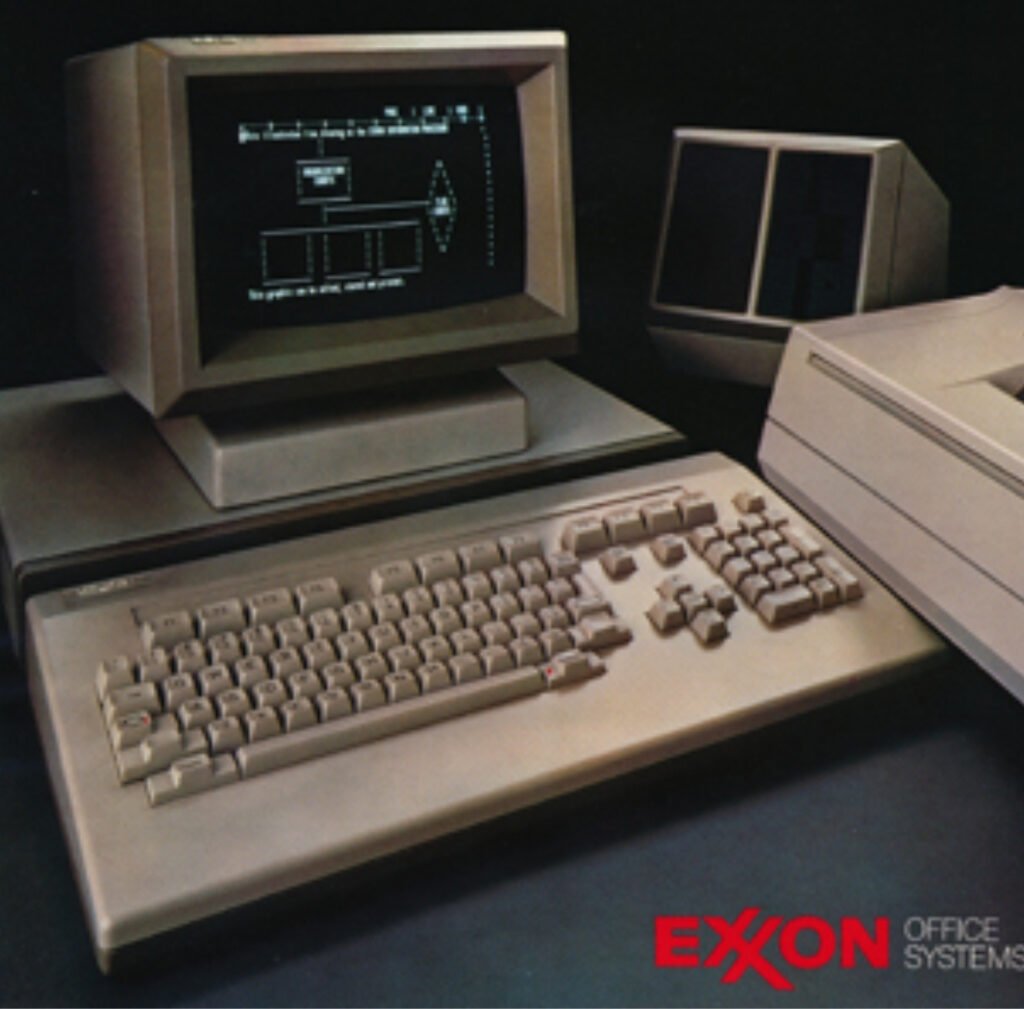 In 1991, Webb was hired as the National Sales Manager for the world's first software search engine company which automatically captured TV news broadcasts using PC-based open-ended architecture. We were years before Google.
By the early 2000's, Webb shifted his attention from high technology to exploration. From 2000-2003, he became a major supporter for the United Nations' World Space Week. He was a speaker at the International Space Development Conference in 2002 and 2007.
Still involved in space exploration, Webb became the first major sponsor for the Google Lunar X PRIZE team, SYNERGY MOON, in 2009. His international team made it to the final round and eliminated over 15 teams. Many of those lunar teams have now joined team SYNERGY MOON.
At the 2015 UN Climate Accords in Paris the Planet Ocean Underwater Hotel project received mention to the world leaders. Immediately, Mr. Webb's underwater hotel received world media coverage.
In 2016, Mr. Webb was approached by Mr. Fabian Cousteau to design and fabricate an underwater learning center to be placed at a depth of 60 feet in the Red Sea. This project was approved by three Egyptian Gov Ministries and received approval from the Arab League. There was a funding issue ($150M USD) for the four underwater hotels joined together by a tunnel system and the research center.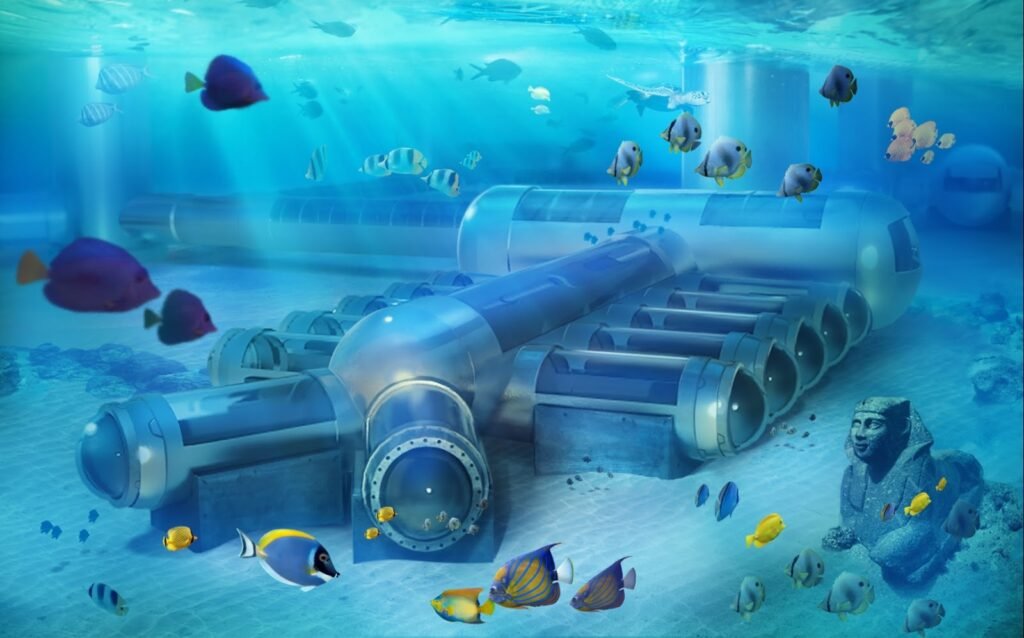 That project ended with no funding.
In 2019, the US Government approved for operations in Cuban waters. This project was designed to provide a new spirit of entrepreneurship for the Socialist island nation. It was rejected by the Cuban government and shortly thereafter President Trump ended all forms of tourism to Cuba. The major reason Cuba was selected was, Cuba has the best coral reefs in all of the Caribbean.
THE GUEST EXPERIENCE Upon arrival at the Planet Ocean Underwater Hotel you and your companion will be anticipating your experience with expansive views of beautiful turquoise, blue, and green waters you pass along the way. The refreshing salt air adds to the magnificent aquatic adventure that you are about to experience. You will be greeted personally by our exceptionally friendly, courteous, and truly motivated professional staff dockside. This is your adventure and we want you to enjoy fully your love of the calm and human rejuvenating qualities of being surrounded by water and sea life!
A push of the button in the aqua viewing elevator begins the thrilling descent to a breathtaking and dreamlike underwater hotel. The elevator doors will open and you will be welcomed into our lobby by our concierge. Expansive views of the aquatic environment surround you, thanks to the crystal-clear acrylic wall and ceiling panels. The concierge will escort you down the concourse to the most extraordinary guest room they have ever experienced.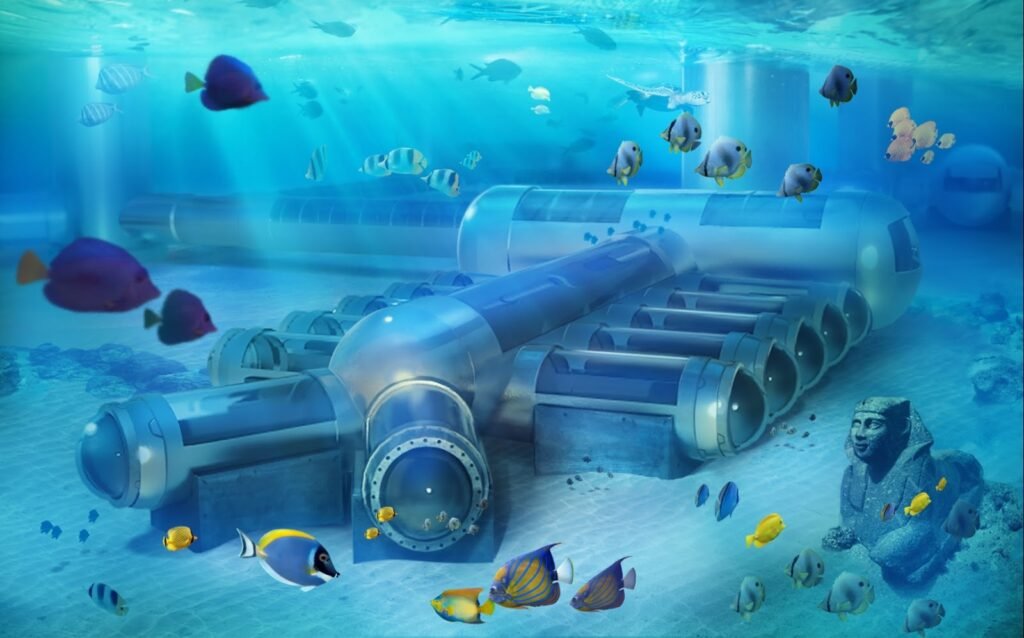 You are now the captain of your private, two-person capacity guest room – a fully furnished and functional 18'x12' (5.5m x 3.7m) fully outfitted guest room, furniture, refrigerator, and audio/visual entertainment center). Your views will constantly astound and entertain or lull you, it's your experience and live it as you choose. Select your favorite music sit, relax, and behold the creatures and landscapes outside your room.
If you wish, you may join our staff and other marine biologists in the main concourse for meet and greet before dining. Share the amazing aquatic viewing experience with others. Retiring to your guest lab room, enjoy gazing at the marine life. When you close your eyes for the night, what a unique slumber you will have, quiet, peaceful slumber. Awake to the morning sunshine 30 feet (9m) underwater, a dream experience, feel life as a dolphin might. Who knows what dreams may come in your underwater paradise? In the morning, enjoy your breakfast in the dining area.
You will never forget, and will always look forward to, your next experience here or at another Planet Ocean Underwater Hotel, each with its own unique and distinctive aquatic setting, scenery, and sea life.
This is a general idea. We keep fine tuning and so far the end result will look like this on the short barge cruise across the Caribbean Sea.
Is comprised of 18'L x 12'Dia. (5.5 x 3.7m) horizontally configured steel cylinder with top and end cutaways for acrylic viewing panels. Two viewing panels wrap the around top cylinder cutaways measuring 6' x 15' (1.9 x 4.5m) each. One viewing panel at outboard end of the guest room measures 6' x 8' (1.8 x 2.4m). Each marine biologist guest room has research equipment. Those include features as a microscope, underwater listening, individual climate controls, Sirius/XM Music, LED dimming lights, and up-close and personal marine life views just inches away. Guest rooms are viewable to other guests rooms but also afford instant privacy at the touch of a button.
The Moon Pool Lobby will be equipped with a plethora of laboratory equipment. It will be referred as The Million Dollar Laboratory IsS for Marine Biologists.
The 145 foot ship will provide the ability for the underwater hotel to be fully self-contained. The support vessel will provide the following functions: secondary galley, crews quarters, captains quarters, one guest room, navigational, support equipment for the IsS. The outside deck offers 87 ft x 25 ft.
The infrastructure basically consist of marine grade technology and we use chilled water systems. On the property we will process our waste and produce reverse osmosis water stored and treated in a tank – that will exceed the utility water quality.
All of our support systems are based on triple redundancy support. Our support vessel provides a variety of support services.
The 145 foot Support Vessel will have two hyperbaric chambers. Our crew will be properly trained for the hyperbaric chamber. It may be possible to have additional hyperbaric chambers ashore in the operations area.
Our unique elevator shaft is just not an ordinary elevator shaft! Inside we offered three glass elevators and an emergency evacuation section. This elevator shaft also offers a topside viewing of the underwater hotel. This elevator travels very slowly to the surface where you can view the spectacular underwater hotel.
The 13 foot diameter elevator shaft has a 30 foot top plate. This provides sun shelter for the covered walk around tables area at elevator entrance. Bio generators have a ten foot exhaust stack. Biofuel tank. Solar panels, Navigation, Radar, Satellite Dish.
Inside the elevator shaft is the kitchen and below deck is the food storage area. We are using state of the art kitchen technology. Smart ovens, induction stove tops, thermal energy solutions for heating and cooling. We will even offer cooking classes to our guests. This will be the coolest Space-Age kitchen they have ever imagined. Food can be prepared on land in operational areas and delivered for additional food preparation.
Ventilation and Condensation Systems controlling the quality of the air requires superior performance technology, which we provide triple-redundancy air support systems. Our air filtration systems are designed to remove gases from the air.
Having an underwater hotel produces challenges of moisture controlled within cylindrical steel walls. The human body also produces moisture in the air. We feel confident a combination of high-tech and health-oriented solutions will ensure high quality air and comfort for our guests. Our HVAC Engineers have been totally amazed with this project.
This is the ULTIMATE OF MOON POOLS
There's a scuba surfacing moon pool with airlock doors. This moon pool can be used as an emergency evacuation location. The moon pool can be used for arrival and departure, or used as a scuba platform – under controlled supervision.
This moon pool could be modified to receive a miniature submarine. The submarine would depart from a mega yacht, travel short distance and arrived at the Planet Ocean Underwater Hotel.
This would be the first time in history a mega yacht's submersible mini submarine would have a destination to an underwater hotel.
"All dressed up and no where to go… not anymore."
The moveable underwater hotel is considered a vessel. We use a similar propulsion system as SpaceX uses for the rocket booster recovery barge. This propulsion provides full navigation capabilities along with 2,000 horsepower.
We will be able to navigate the underwater hotel on its own power short distances. Our Support Vessel has 4,000 horsepower for towing to another reef location.
THAT'S 6,000 HP and to move on surface the underwater hotel a short distance and then submerge to a new location.
We designed the underwater hotel to be fully self-contained and fully self-sufficient. Our support vessel provides solar, wind, biofuel generators. We can convert plastic trash into biofuel and use that green energy to power our moveable underwater hotel. http://www.PyrolysisPlant.com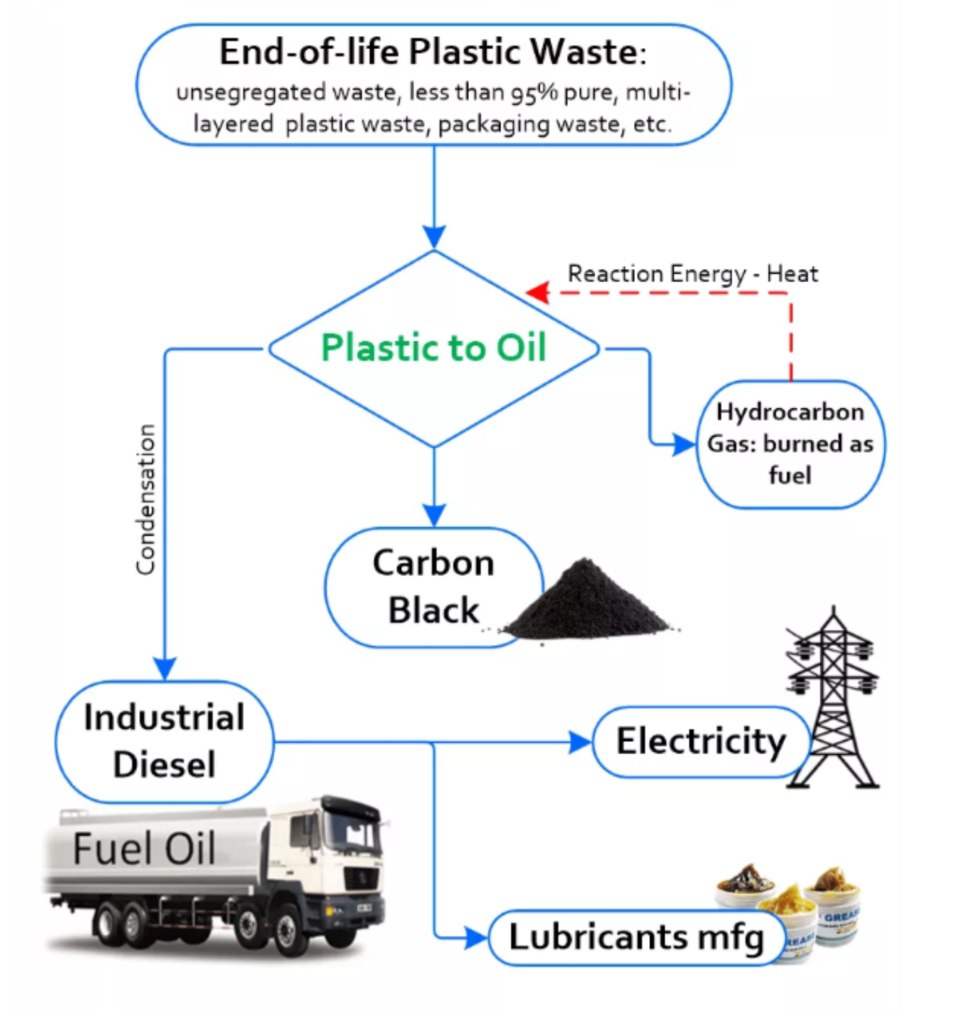 Our black water waste is controlled processed by our triple redundancy waste system. Our support vessel has a 980 gallon tank to transport the black, grey water back to the dock for proper sewage treatment.
No human waste will enter into the ocean waters. We use an environmental-safe incinerator that produces a carbon ash. We will use biodegradable soap and natural-based shampoo.
Our INNER SPACE TOURISM FEES are less than 10% of the very expensive Space Tourism Industry.
Our original daily room rate was projected at $6,000 a night- inclusive for two adults. The RAFFLES eliminates the concern of daily room occupancy.

Excellent reasons for having a Planet Ocean Underwater Hotels LLC International Sea Station in the host nation's waters:

1. Increased media attention for area tourism.
2. Creates a new revenue stream for land based resorts.
3. Increased marine life.
4. Increased awareness of responsible ecological marine research
5. Sustainable development and not a burden on existing infrastructure
6. Increased educational opportunities
The Planet Ocean Underwater Hotels, LLC steel fabricators are in Louisiana and in Florida. The steel fabricators were specially selected for past and proven work in the oil and gas industry and with NASA. Essentially, we have a one-stop shop and under strict quality controlled, we can fine tune our state of the art fabrication into a lower cost underwater hotel. We believe we can fabricate the entire underwater hotel in less than one year.
When the RAFFLES are sold then we will immediately begin fabrication of the world's first moveable underwater hotel and have completed hopefully in 9 months.
INTERNATIONAL CREW AND FOR ASSEMBLY
Our interior assembled facilities are in Florida. This location will expedite fabrication for the first underwater hotel IsS. We will hire long term crew members to assist in the day to day operations. The crew will assist in the interior modular plug and play fabrication. The entire underwater hotel IsS will be fully functional, this will give the crew the opportunity to learn our systems and operations. The modular components are disassembled and trucked transported to our steel fabricators located in Louisiana or Florida. The modular components are crane lifted into the empty steel cylinders and the acrylic is placed and sealed.
The FOOTPRINT for the moveable underwater hotel is 60 feet by 190 feet. We needed a low cost TENT to assemble the modular components and then FULLY TEST THE ENTIRE UNDERWATER HOTEL. Then disassemble, placed into shipping containers transported via barge to our steel fabricators and then systematically installed and then sealed with our acrylic. The tent is disassemble and shipped to the host nation.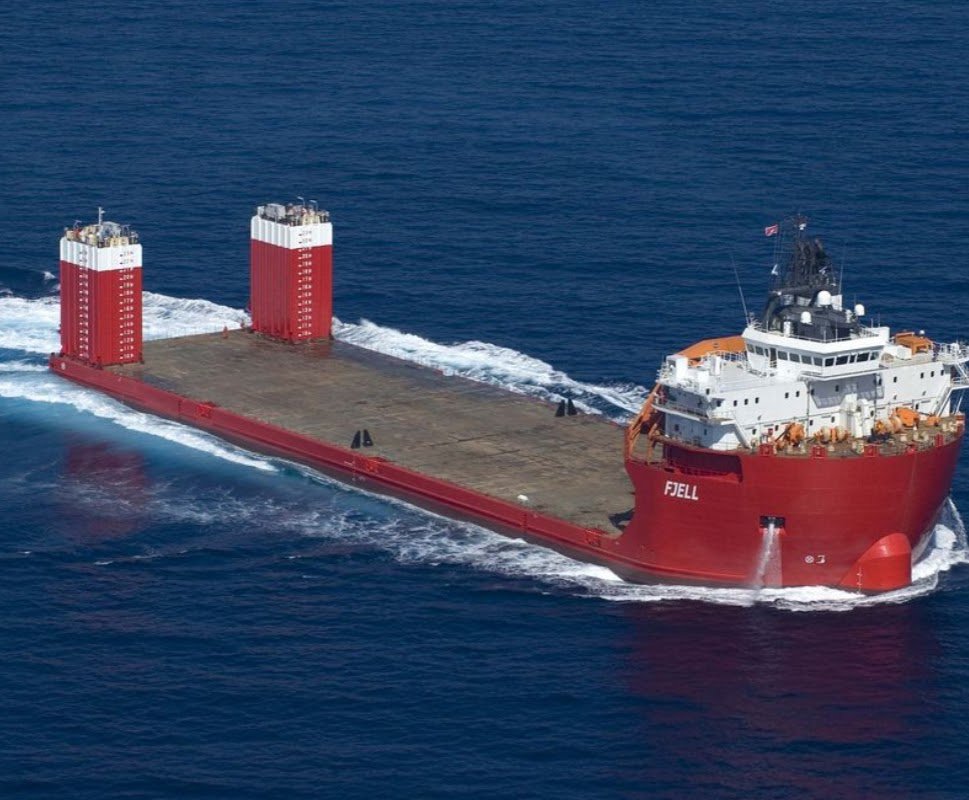 BEACH OR BARGE EXTRACTION
The moveable underwater hotel can be 100% rolled out of the water and on to a barge for quick maintenance.
Since the underwater hotels have their own propulsion systems, we are not dependent upon others to assist in our operations.
Because we can self navigate the underwater hotel under our own propulsion, we can safely operate in close proximity to healthy coral reefs. No underwater hotel will ever be placed in open waters and exposed to the violence of sea storms or subjected to navigational hazards.
INSURANCE UNDERWRITING
Only Lloyds of London will undertake such an opportunity. Our strict guidelines will provide for safety of the guests and our moveable underwater hotel and support vessels.
UNDERWATER RESEARCH CENTER INTERNATIONAL SEA STATION
For years we have considered placing at each underwater hotel a research center for colleges and universities. This would be an educational opportunity to provide the guests with access to marine biologists and contribute for a greater journey into INNER SPACE.
The IsS would be located in a section of the 16×60 foot lobby attached to the Moon Pool.
THINKING CYLINDRICAL We will utilize space underneath the deck/floor. This provides in our two lobbies the ability to have a long table hydraulic rise up from the floor and the table chairs placed around the 24 seat table. After that function has ended the guests can move into the other prepared function while the crew cleans up the previous function. The table is lowered and now becomes the floor with the 24 chairs underneath the lobby deck.
October 2019 a TV Producer chartered a Pensacola vessel and shot the Tony Webb story. Another team member who served 20 years as an USN Electrician, who now wires mega yachts, was also interviewed.
FLORIDA DEPARTMENT ENVIRONMENTAL PROTECTION APPROVED
On November 18, 2019 Tony Webb met with the Northeast Florida Department of Environmental Protection and obtained the permission to operate the moveable underwater hotel in Florida waters.
CORONA VIRUS
We have a variety of layers to protect the guests from the CV-19. We also have new solutions for assembling the triple redundancy systems and modular interior systems and protect the installation crew. We have no fears about the future of the virus.
Media are invited to publish parts of this material. Just send us a written request.
Thank you for your support.
Tony Webb Managing Director Planet Ocean Underwater Hotels, LLC
tony @ usakw.com
Key West, Florida USAKW
www.usakw.com
© Planet Ocean Underwater Hotels, LLC 2021